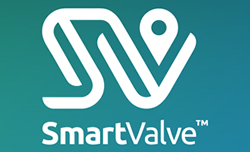 Manual valves provide many challenges including high operational costs, reduced visibility and lack of flexibility for process control. Obtaining reliable information on the open and close positions of valves as well as monitoring the operation, durability and performance of manual valves is essential in minimising interruptions and shutdowns.
SmartValveTM is an innovative, cross platform app designed specifically to manage and monitor all manual valve operations and reduce transient pressure waves on a potable water network. There are two elements to SmartValveTM. Firstly, the app receives jobs and records the valve operation. The phone connects simply to any valve key and accurately records the number of turns, speed of turn, direction of turn, valve location, time and operator (available for both Android and iOS devices). Secondly, the web app which manages and provides insights on the completed valve operation process. SmartValveTM   has two workflows, planned operations sent to the phone via the SmartValveTM website application and ad-hoc turn recording allowing operators to record any other valve operation.
SmartValveTM has been designed especially for the water industry, with flexible coding technology to ensure maximum compatibility with existing IT infrastructure. The app also utilises Near Field Technology (NFC) to tag the assets (valves) for quick identification and to ensure the correct valve is being operated.
Available on Android and IOS devices
Key component of future 'smart networks'
Real time visibility of all network operations
Compatible with SCADA and corporate systems
Flexible, easy to install, commission and maintain
Streamlined process, compact, fully integrated solution
Provides full range of control capability to control room operators